Condenser, Compressor & Lines for 2012 BMW 740i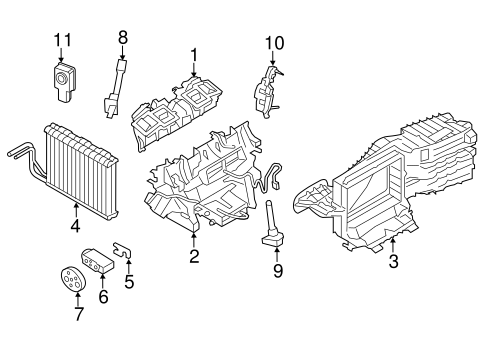 No.
Part # / Description
/ Price
Price
Storage Evaporator 645012
Evaporator Core
ActiveHybrid 7. 5 series. 6 series. 7 series. With auto stop-go. With start/stop function.

This product (part number 64-11-9-383-679) is a part of our overstock inventory sale. Check out our other deals here!
Expansion Valve
With 4 zone control. Extended Rear Cabin Air Conditioning. 7 series hybrid. With rear cabin ac. 5 series. Without diesel. With hybrid 5.
Actuator 644021
Actuator
6 series. Front. 7 series. 5 series. With gt models. M6. 640i xDrive Gran Turismo. 650i xDrive.
Xauc Sensor 644020
Sensor
Auc. 5 series. Air recirculation. 7 series hybrid. Without auxiliary heater.
Discontinued
Discontinued
Related Parts
Part # / Description
/ Price
Price
Pressure Pipe
Liquid Line
3.0L turbo. 740i. 740 models, without diesel. Exc.Auxiliary A/C.